Unified Payments Interface - TranZapp
UPI (Unified Payments Interface) is a unique payment system through which you can link your bank account to a mobile application and make transactions safely. From transferring money to friends to paying merchants, from online shopping to paying utility bills, UPI makes transferring money easy, safe, and instant.
What is UPI?
UPI is a unique payment solution,as the recipient is now empowered to initiate the payment request from a smartphone. It facilitates "virtual address" as a payment identifier for sending and collecting money and works on single click 2 factor authentications.It also provides an option for scheduling push and pull transactions for various purposes like sharing bills among peers. One can use UPI app instead of paying cash on delivery on receipt of product from online shopping websites and offers various payment facilities like paying utility bills, over the counter payments, barcode(scan and pay) based payments, donations, school fees and other such unique and innovative use cases.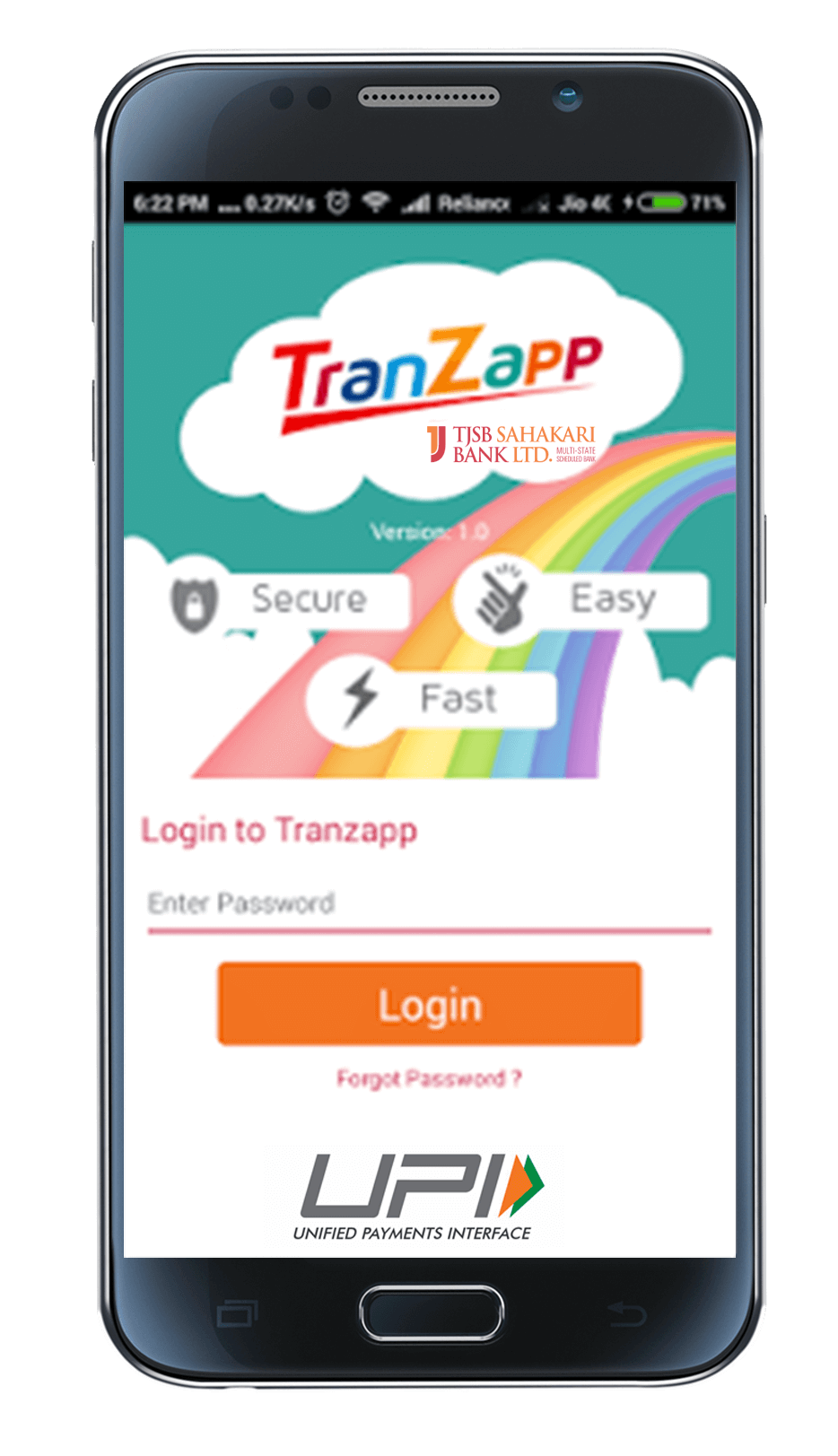 All you need to know
About TranZapp
TranZapp by TJSB SAHAKARI BANK LTD is UPI (Unified Payment Interface) application that Customer of any bank can use to send or collect money, shop anywhere, pay bill and much more. TJSB Bank Customer who is already registered for Mobile Banking can create and assign virtual payment address to their Bank Accounts whereas Customer who is not registered for Mobile Banking can do Mobile Registration using this application with Mobile Number used for TranZapp Registration and SMS Banking. Non TJSB Customer can do Registration in TranZapp after ensuing that Mobile Number used for registration in Tranzapp should be same as the mobile number registered with the bank whose account you'd like to link or transact with.
Transaction Type:
Financial Transaction
Pay Request
Collect Request
Merchant Payment
(like Mobile Recharge, DTH Recharge , etc)
Non - Financial Transaction
Balance Enquiry
Mobile Banking Registration
Generate One Time Password (OTP)
Set / Change MPIN
Check Transaction Status
Registration in UPI enabled application

Steps for Registration:
User downloads the UPI application from the App Store / Banks website
User creates his/ her profile by entering details like name, virtual id (payment address), password (6 digit numeric)
Menu Available after Registration in UPI enabled application